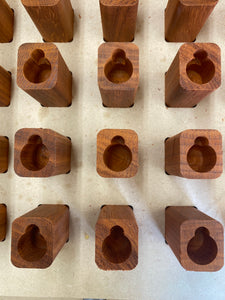 Fire Fast - Incredible Quality
In March of 2015 we sold our first fire starter online (before this we sold for an additional 1.5 years at trade shows - about 7 years total). As one of the few US manufacturers of fire starters we had a choice: make something quick and dirty and make a few bucks, import from China with our own brand on it to fool the public, or make a quality product right here in the USA. We chose the latter approach. Over the last few months we have changed our production line. Interestingly our Trekker and Kamper Lanyard fire starters look similar to what we have made for many years. We have always buried the magnesium 3/4" into the wooden handle and in over 30K sales we have never had a failure from this. The flints, however, rested on top of the handle and were epoxied to the magnesium rod. We have had only 3 reports of failure of the flint separating from the mag rod - a pretty good record. But now our flint is buried 1/2" into the handle! 
At a recent trade show I dropped the nose of a trekker over 40 times onto a cement slab and all it did was ding it up!
Now that's a very high level of
durability. Our Austrian 76% ferrocerium flint is the best in the world, our magnesium rod 95% pure, and our hardwood handle virtually waterproof, our striker hardened steel and our paracord military grade. All combined these Made in America fire starters are second to none.
If you are going camping/hunting/fishing/hiking/backpacking or simply want a quality fire starting tool for your earthquake kit or bug-out-bag then this is the product line for you. Our Trekker and Kamper fire starters provide easy-to-use fire starts from a tool that will last for years even in the worst conditions.
---