Easiest, fastest fire starter on the market...
get your fire going FAST!
The LAST and ONLY Fire Starter You'll Ever Need!
When it comes to your survival in an emergency situation, a reliable firestarter is a MUST.  This premium fire starter is easy to use and works every time.
BUY NOW

Made in America
The Trekker is made by a family-owned business, located in sunny California.

Premium Ingredients
What makes us truly different is our components. We cut no expense on the creation of this tool. Many people depend on the Trekker to consistently perform in a variety of situations.

Weather-proof
Works even when exposed to the elements. You can take this tool through the rain and snow and still create a fire.
Components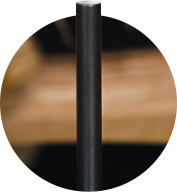 Ferro Rod/Flint
Not all Ferro/Flint is created equal. Most flint found in the market, used by many of the biggest brands, is subpar. The average product contains low-grade flint from China.
Chinese flint is only 17% rare earth metal and as much as 20% of the flint is plastic.
We source our flint directly from Europe. European flint creates a large shower of sparks, allowing you to start your fire with ease!
More rare earth metals = better.
Our fire starters are 76% rare earth metal.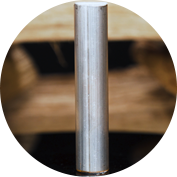 Magnesium
Military-grade magnesium burns between 4000 - 5000 degrees Fahrenheit, which makes for an excellent accelerant.
Most fire starter makers use a magnesium alloy combined with other metals, typically making it hard as stone. This means you can barely scrape the dust off it, let alone enough to create a flame.
Our premium magnesium is 95% pure and easy to scrape. The purer the magnesium is, the more readily it burns.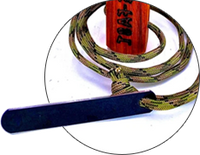 Striker
With each fire starter we provide a striker made of hardened blue steel. This striker doesn't bend or break. We have sharpened the edges slightlty to make it significantly more effective for scraping.

Other fire starter makers recommend that you use a knife which makes the process more difficult.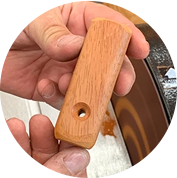 The Handle: Built-in Tinder
If you get into a situation where it's wet outside and there is nothing dry to burn, you can easily scrape a pile of shavings off the handle. This is handy in extreme emergencies, in the rare instances you need it.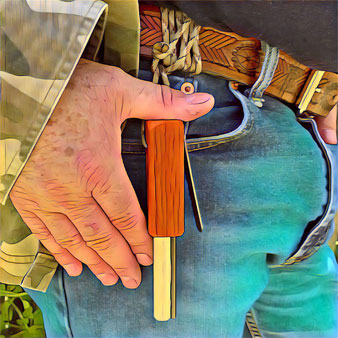 WHEN YOU NEED IT,
IN ANY CASE, IT's THERE
IF you ever find yourself in a situation where you need to get a fire going and conventional methods are not available to you, you can use this premium starter and get your fire going easily and reliably every time!
With what's been happening in society, especially this year, EVERYBODY needs to have some kind of survival kit, complete with one of our fire starters.

Fortune favors the prepared.
Get Yours Today
We've used this at 2 scout camping trips and was easily usable by the scouts to meet their fire starting requirement. Awesome tool and stood up to plenty of abuse as 10+ kids used it to start individual fires.
Absolutely perfect size. Magnesium is very easy to scrape (handle too). Strangest thing none else mentions is the fact that if the magnesium scrapings get rained on, the sparks work like an atomic bomb! Awesome ferro!
I'm a fire starting novice, and was able to start fires with this nearly as quickly and easily as using a lighter, even with sub-optimal tinder. The magnesium rod is huge, so it should last a very long time, the construction is solid, and it just looks good. Can't suggest it enough.
If you want the ultimate camping or Go Bag ferro rod and magnesium combo this is it. You have lots of magnesium